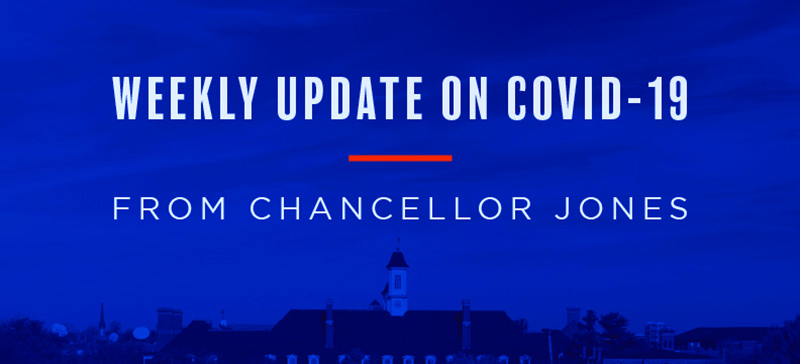 Weekly Update from Chancellor Jones (8/17 – 8/21)
We are now performing our rapid, saliva-based COVID-19 test under the umbrella of an approved FDA Emergency Use Authorization.
The testing protocol developed by Illinois researchers directly detects the coronavirus that causes COVID-19 in saliva samples. View the full list of testing location and hours across campus.
We are providing detailed information on building access procedures for the Fall 2020 semester.
The university is limiting access to on-campus facilities to individuals who are in compliance with safety requirements.
We are sharing information about COVID-19 testing results and procedures.
If you are a student, faculty or staff member and you test positive for COVID-19, there are processes that you need to follow.
We are providing health and support resources to students, faculty and staff.
Support resources are available to help you begin your academic year as smoothly as possible.
We are encouraging our university community to download the Safer Illinois app.
The Safer Illinois app is an innovative tool to help our entire community maximize safety.
We are informing you of new emergency orders in the community.
The cities of Champaign and Urbana recently issued emergency orders regarding the use of face coverings, parties and social gatherings.
We are sharing information to help the community respond to COVID-19.
Taking this survey provides feedback to Champaign County businesses and economic development leaders as they work to meet community needs.
Thank you for your continued patience as we navigate COVID-19. Please feel free to direct questions to covid-19@illinois.edu.
Robert J. Jones
Chancellor