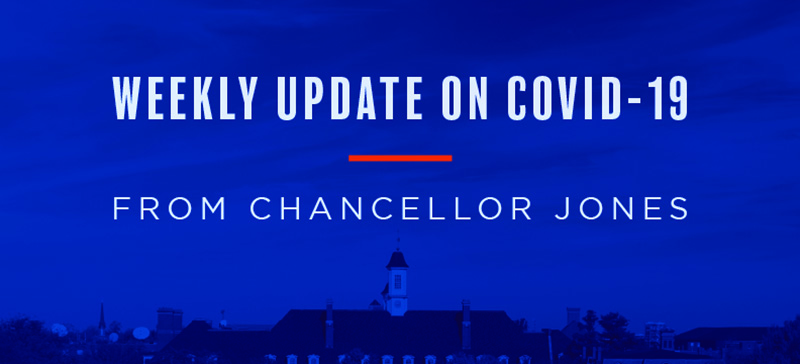 Weekly update from Chancellor Jones (Week of March 29)
We are sharing guidance about on-campus events and summer camps.
The Illinois Department of Commerce & Economic Opportunity (DCEO) has recently released updated Phase 4 guidance for in-person events and camps. Learn more on the Events page.
We are offering alternative COVID-19 testing for individuals observing Ramadan.
If you will be fasting during Ramadan and concerned about producing a saliva sample for COVID-19 testing, you can request a nasal swab test. Faculty/staff should contact the Office for Access & Equity at 217-333-0885. Students should call McKinley Health Center at 217-244-5661. Please state that you are requesting the nasal swab test because you are fasting to observe Ramadan. The testing option will be available to from April 12 – May 12.
We are continuing to share updated vaccine information.
Champaign-Urbana Public Health District (CUPHD) has shared that higher education employees, including student employees, are now eligible for the COVID-19 vaccine. If you are eligible and have not yet been able to make an appointment, please be patient until more appointments are available, and please check your university email account every day for updates on additional vaccination opportunities.
We are reminding students, faculty and staff to maintain their regular testing schedule and follow COVID-19 safety protocols.
Continue to check the testing locations page or your Safer Illinois app before testing at your usual location. Mandatory testing requirements are still in place for individuals who are fully vaccinated.
I am very grateful for your continued efforts as we work to maximize the safety of our university community. Please feel free to direct questions to covid-19@illinois.edu.
Sincerely,
Robert J. Jones
Chancellor