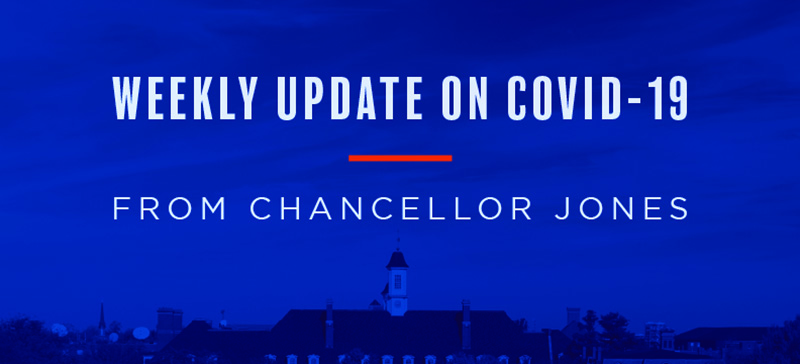 Weekly update from Chancellor Jones (Week of Feb. 8)
We are extending course drop deadlines and offering additional grading options for the Spring 2021 semester.
In response to the ongoing COVID-19 pandemic, and with approval by the Academic Senate, we are implementing academic policy modifications effective immediately for the Spring 2021 semester. This includes extended drop deadlines and Pass COVID/No Pass COVID grade mode options.
We are sharing guidance regarding events.
As part of our region's transition into Phase IV of the governor's Restore Illinois Plan, facilities at the University of Illinois Urbana-Champaign may resume hosting in-person, on-campus events for university faculty, staff and students. The university is still encouraging virtual events when possible. View the updated guidance.
We are reminding our university community to maintain their regular testing schedule and follow COVID-19 safety protocols.
Continue to check the testing locations page or your Safer Illinois app before testing at your usual location. Please note that this semester, students who are out of compliance may also lose access to university Wi-Fi, Zoom, Compass and other technologies.
We are continuing to share updated vaccine information.
Champaign-Urbana Public Health District (CUPHD) is leading vaccination distribution in our county, and the university will share vaccine information with you as it becomes available.
I am grateful for your efforts as we work to maximize the safety of our university community. Please feel free to direct questions to covid-19@illinois.edu.
Sincerely,
Robert J. Jones
Chancellor