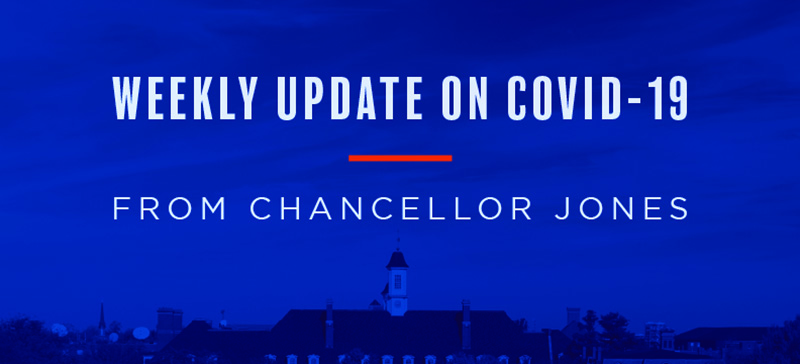 Weekly Update from Chancellor Jones (Week of Feb. 1)
We are reminding students to participate in essential activities only until at least Feb 8.
For the first several weeks of the semester, students should limit their in-person interactions to only the most essential activities. The target date for lifting essential activities only is Monday, Feb. 8 but it could be sooner or later depending on what the data shows about the virus.
We are reminding our university community to maintain their regular testing schedule and follow COVID-19 safety protocols.
Continue to check the testing locations page or your Safer Illinois app before testing at your usual location. Please note that this semester, students who are out of compliance may also lose access to university Wi-Fi, Zoom, Compass and other technologies.
We are providing students with PPE kits for the new semester.
Students can pick up free PPE kits on the second floor of the Illini Union Bookstore with their i-cards until Feb. 11.
We are continuing to share updated vaccine information.
Champaign-Urbana Public Health District (CUPHD) is leading vaccination distribution in our county, and the university will share vaccine information with you as it becomes available.
I am grateful for your efforts as we work to maximize the safety of our university community. Please feel free to direct questions to covid-19@illinois.edu.
Sincerely,
Robert J. Jones
Chancellor