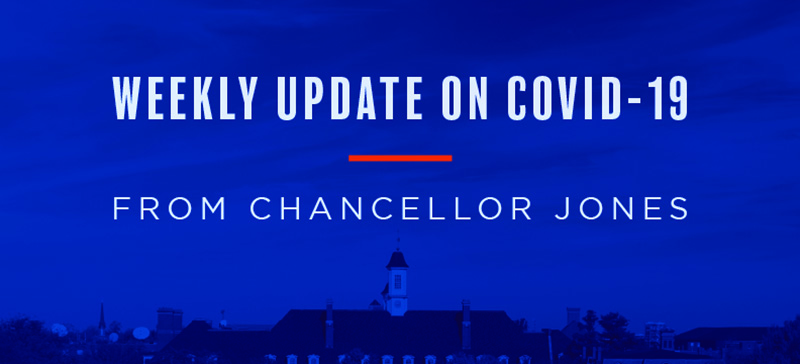 Weekly Update from Chancellor Jones (12/14 – 12/18)
We are celebrating one million on-campus COVID-19 tests.
This week, the University of Illinois Urbana-Champaign processed the one-millionth test of our unique saliva-based COVID-19 test since launching the program in July.
We are updating testing locations and hours.
On-campus COVID-19 testing will be available throughout Winter Break. Please check the Testing Locations page or your Safer Illinois app before testing at your usual location.
We are working with the NIH on an important COVID-19 research study, and you can participate in it if you test positive.  
Our researchers are conducting a study aimed at improving testing strategies to control the virus. If you test positive, you will be sent enrollment information via text. Participation is voluntary.
We are asking students to submit their positive off-campus COVID-19 test results.
Undergraduate and graduate students who test positive for COVID-19 at an off-campus location over Winter Break should submit their positive off-campus COVID-19 test result through the MyMcKinley Portal.
We are sharing information about the new Staff Voluntary Retirement Plan.
Employees can view the captioned recording of the Staff Voluntary Retirement Plan Informational Session. For more information about the program, please visit the Illinois Human Resources webpage.
Thank you for your continued patience and contributions during this very challenging year. I wish you all a holiday season filled with health and happiness.
Sincerely,
Robert J. Jones
Chancellor