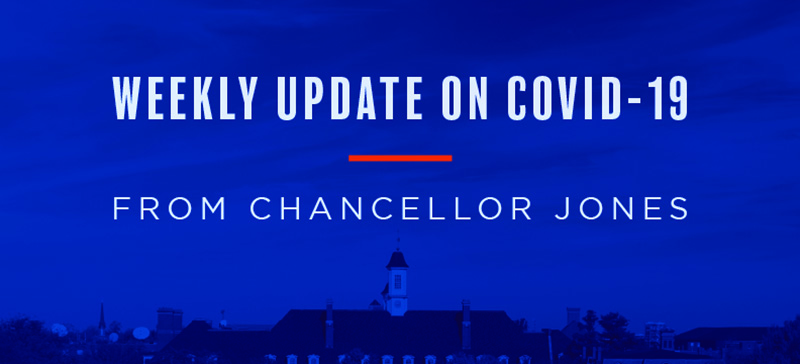 Weekly Update from Chancellor Jones (11/9 – 11/13)
We are asking faculty, staff and graduate students to test twice a week.
Faculty, staff and graduate students are asked to take additional safety precautions, including increased testing, working from home if possible, participating in essential activities only and limiting travel and gatherings.
We are sharing Fall Break policies with students.
If you are a student traveling for Fall Break, we are asking you to follow these guidelines so you do not endanger the health of your family and friends back home.
We are reducing student fees for Spring 2021.
More information about the Spring 2021 fee schedule can be found on the Office of the Registrar's website.
We are updating COVID-19 testing locations and hours.
There will be changes to testing center locations and hours starting Nov. 21.
We are encouraging you to help others maximize safety.
You can report safety concerns and non-compliance at go.illinois.edu/COVID19-report or by emailing conflictresolution@illinois.edu.
We are providing updated information on our COVID-19 response.
The captioned COVID-19 Response Update Briefing from Nov. 6 is available to watch.
We are sharing support resources for students, faculty and staff.
Support resources are available to assist you during these challenging times.
Thank you for your continued patience as we navigate COVID-19. Please feel free to direct questions to covid-19@illinois.edu.
Robert J. Jones
Chancellor