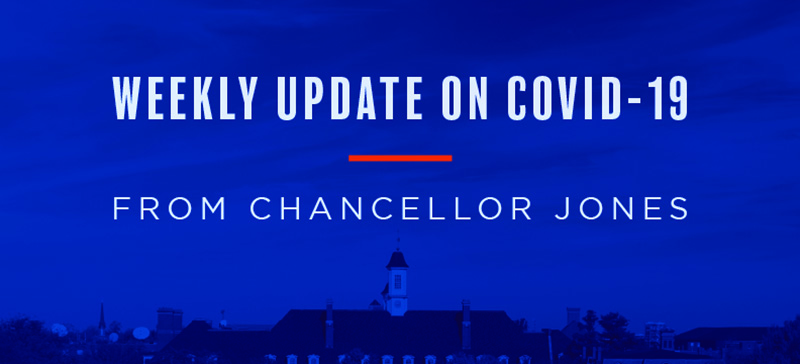 Weekly Update from Chancellor Jones (11/30 – 12/4)
We are announcing a new Staff Voluntary Retirement Program for eligible employees.
The goal of the program is to provide an incentive opportunity and support our employees who may want to retire.
We are implementing new test tubes to speed on-campus COVID-19 test processing.
Beginning this week, individuals will use a straw to deposit a saliva sample into a smaller test tube.
We are updating quarantine guidelines in accordance with CUPHD.
You can view the updated quarantine guidelines on the quarantine and isolation page.
We are sharing information with faculty and staff who test positive.
If you are a faculty or staff member and you test positive for COVID-19, the university will send you a text message shortly after your test is processed.
We are updating COVID-19 testing locations and hours.
Be sure to check the testing location page or your Safer Illinois app before testing at your usual location.
If you are currently residing in the community, you should continue your COVID-19 testing schedule. Undergraduate students on campus will need to test and receive negative results every other day in order to keep building access status.
We are providing on-campus study spaces and exam locations.
The locations will be available from Nov. 30 to Dec. 18 for those who must be on campus.
We are encouraging you to help others maximize safety.
You can report safety concerns and non-compliance at go.illinois.edu/COVID19-report or by emailing conflictresolution@illinois.edu.
Support resources are available to assist you during these challenging times.
Thank you for your continued patience as we navigate COVID-19. Please feel free to direct questions to covid-19@illinois.edu.
Robert J. Jones
Chancellor