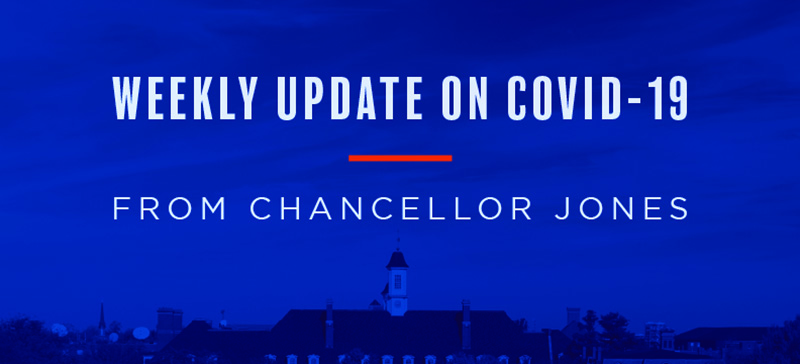 Weekly Update from Chancellor Jones (1/11-1/15)
We are requiring students to receive two negative on-campus test results between Jan. 15-24.
In order to participate in on-campus activities, it is required that all undergraduate and graduate students receive two negative on-campus test results, no sooner than three days apart between Jan. 15-24. For more information, please visit the Spring 2021 Return to Campus page.
We are extending hours at on-campus testing locations on Jan. 23 and 24.
Please check the Testing Locations page or your Safer Illinois app before testing at your usual location.
We are sharing information about Spring 2021 in our COVID-19 Briefing Series.
The captioned briefing from Jan. 12, Supporting our University Community during Spring 2021, is now available to watch.
We are asking students to submit their positive off-campus COVID-19 test results.
Undergraduate and graduate students who test positive for COVID-19 at an off-campus location over Winter Break should submit their positive off-campus COVID-19 test result through the MyMcKinley Portal.
We are limiting the Safer Illinois app and Boarding Pass building access to maximize safety. 
Between January 15 and January 24, the Safer Illinois App and Boarding Pass will be reset for the Spring semester, at which time building access will be shown as denied. Graduate or professional students who have research or work duties that require access to campus buildings from Jan. 15-24 should work with their supervisors to arrange for building access.
I am grateful for your efforts as we work to maximize the safety of our university community. Please feel free to direct questions to covid-19@illinois.edu.
Sincerely,
Robert J. Jones
Chancellor