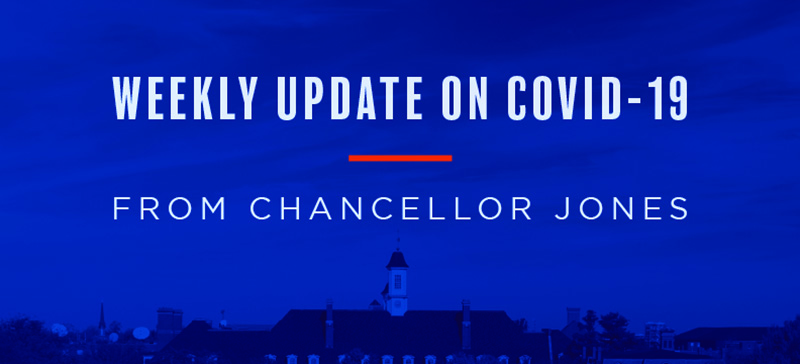 Weekly Update from Chancellor Jones
Earlier this month, I promised to communicate with you as openly, honestly and quickly as I can. As part of that promise, I want to begin sharing weekly university updates regarding COVID-19. I hope it can be a way for us to stand together and stay informed.
We are taking actions to protect the health and safety of our students, faculty, staff and community.
We have taken steps to reduce the density of our campus population to allow for greater social distancing and to make the environment safer for those who remain here.
We are also greatly limiting access to many buildings across campus. The buildings that do remain open are being cleaned thoroughly and systematically.
We are implementing policies to deliver the best educational experiences for our students.
We have implemented new policies for Spring 2020 courses, including pass/no-pass grading options and new deadlines.
We are committed to finding ways to celebrate Commencement when it is safe to do so.
The university is actively exploring options for a rescheduled in-person ceremony when it is safe to do so and planning experiences for our graduates in the coming weeks to celebrate their achievements.
We are creating policies that recognize the challenges facing our faculty and staff.
Our COVID-19 Pay Continuation Protocol ensures employees that are promised pay and benefits will not be affected by any COVID-19-related changes.
We are also providing options to ensure faculty members' promotion and tenure processes are not disrupted by COVID-19.
We are successfully supporting teaching and learning in this transition.
We have outlined additional mental health and support resources to help assist our Illinois students, faculty and staff—including those who are not on campus.
We have also shared both teaching resources and learning resources.
Please feel free to engage with us in the following ways: email us at covid-19@illinois.edu and find updates on Facebook, Twitter, Instagram and LinkedIn.
I am grateful for each of your extraordinary efforts during this challenging time.
Robert J. Jones
Chancellor