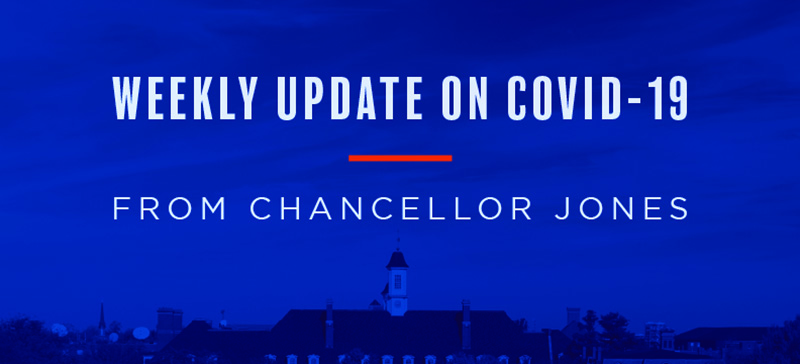 Weekly Update from Chancellor Jones (Week of May 3)
I am so very grateful for your efforts this past year as we worked together to maximize the safety of our university community. This will be my last weekly COVID-19 update message of the academic year. During the summer, we will plan to communicate with our university community directly as new announcements arise. Please feel free to direct any COVID-19 questions to covidwellness@illinois.edu.
We are updating Summer 2021 on-campus testing locations and hours.
Beckman, CRCE, Illini Union and State Farm Center testing locations will be open for Summer 2021 with updated hours beginning May 17. View the testing locations page for the full list of hours.
We are sharing study locations for students.
Study spaces will be available from Reading Day on Thursday, May 6 through the end of Final Exam Week on Friday, May 14.
We are sharing information about updated university travel guidelines for faculty and staff.
The university is issuing new travel guidelines based on information from the Centers for Disease Control and Prevention and the State of Illinois.
We are encouraging members of the community to be vaccinated if and when they are able to do so.
All University of Illinois Urbana-Champaign faculty, staff and students are now eligible for vaccine appointments. You can also use vaccinefinder.org to look for available appointments nearby. If possible, you are encouraged to return to the same location for your second dose. But if that is not possible, you will be able to get your second dose at any state mass vaccination site.
We are encouraging you to upload your COVID-19 Vaccination Record Card to the MyMcKinley Portal if you are fully vaccinated.
The university plans to use verified proof of vaccination to replace regular COVID-19 testing for compliance and building access for Fall 2021. Until this goes into effect, all university COVID-19 testing requirements will remain.
Sincerely,
Robert J. Jones
Chancellor