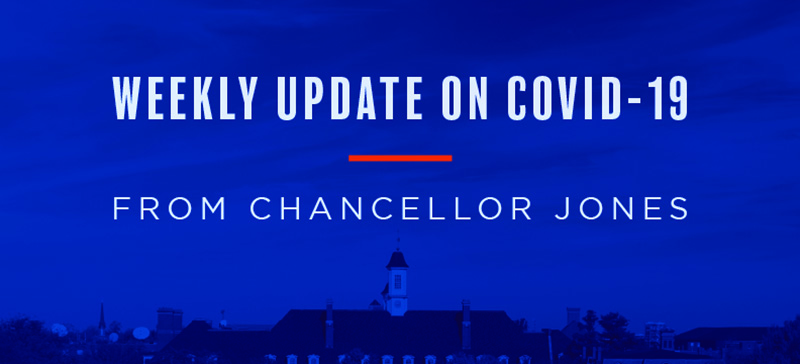 Weekly Update from Chancellor Jones (May 25 – May 29)
We are planning for Fall 2020 instruction.
We are working diligently toward the development of a plan for Fall 2020 instruction in a manner that prioritizes everyone's safety and well-being.
We are planning for employees to return to on-campus operations.
The University is working within the parameters of guidance and direction provided by the Centers for Disease Control and Prevention (CDC), the State of Illinois, agencies such as the Equal Employment Opportunity Commission (EEOC) and others to prepare for employees to return to on-campus operations.
We are encouraging all university employees to take advantage of free COVID-19 testing.
Free COVID-19 testing is available for university employees and their families.
We are preparing university buildings.
Facilities & Services is installing signs and directions near building entrances, elevators, bathrooms and stairwells.
We are using Illinois innovation to help fight COVID-19.
Illinois Extension built the interactive data dashboard for Champaign Urbana's Public Health District (CUPHD).
We are providing resources for instructors.
The Online Teaching Academy is an opportunity for faculty to review practices, discuss different pedagogical approaches and receive hands-on training for online teaching and learning.
We are extending the cancellation of in-person university-sponsored events through July 31.
We define summer events as organized activities sponsored by the university and/or held in university facilities that involve gatherings of small to large groups of people. The health and safety of our students, faculty, staff and the community in which live continues to be our top priority.
Thank you for your continued patience as we navigate COVID-19. Please feel free to direct questions to covid-19@illinois.edu.
Sincerely,
Robert J. Jones
Chancellor