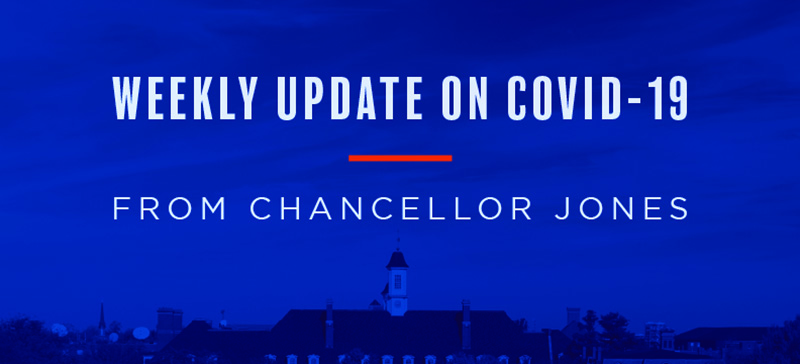 Weekly Update from Chancellor Jones (June 1 – June 5)
We are inviting students, faculty and staff to share their feedback.
As the university continues to navigate the impacts of COVID-19 and makes plans for returning to on-campus operations, we know it is important to ensure we are considering a range of perspectives. Please consider sharing your thoughts by filling out this survey.
We are sharing the Fall 2020 instruction report draft.
The COVID-19 Academic Affairs Team is sharing their analysis and recommendations for Fall 2020 instruction.
We are providing regular updates from our return to on-campus operations working teams.
The COVID-19 Briefing Series will address subject areas regarding return to on-campus operations. Watch the live stream on Tuesday, June 9 at noon via go.illinois.edu/covid-19briefing.
We are providing additional information about the university's budget and financial status.
This message offers specific information, actions and strategies about how the university will navigate through the financial impacts of COVID-19.
We are encouraging all university employees to take advantage of free COVID-19 testing.
Free testing is available for university employees and their families.
We are providing all employees with two fabric masks.
If you have not received yours, please contact your unit's COVID-19 liaison. If additional assistance is needed, please contact Brian Brauer at brbrauer@illinois.edu for further help.
Thank you for your continued patience as we navigate COVID-19. Please feel free to direct questions to covid-19@illinois.edu.
Sincerely,
Robert J. Jones
Chancellor