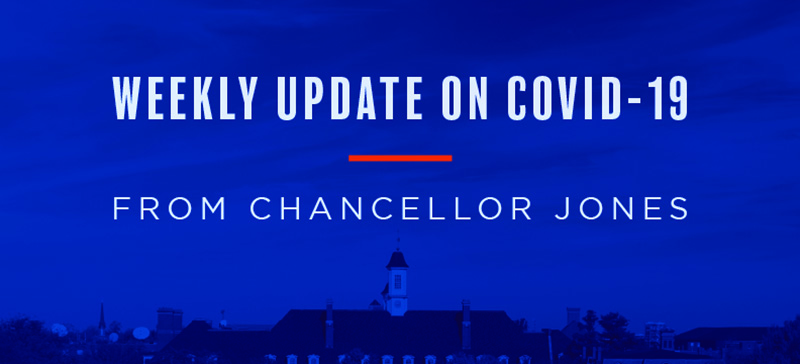 Weekly update from Chancellor Jones (March 30 – April 3)
We often say the people who come through this university regularly redefine the word "impossible." From creating a prototype emergency ventilator to transitioning to online course delivery formats, I am thankful for your innovation as we continue to navigate the COVID-19 pandemic.
We are conducting summer classes online to protect the health and safety of our students, faculty and staff.
Summer 2020 courses will be conducted remotely via alternative delivery mechanisms. I encourage you to read a letter from Professor Ollie Watts Davis about our ongoing commitment to student success.
The decision has not been made about camps, programs and events. We will communicate with you when we have more information to share.
We are using Illinois innovation to craft global solutions to COVID-19.
A team led by The Grainger College of Engineering and Carle Health has produced a prototype emergency ventilator to help address the need for respiratory care during the COVID-19 pandemic. ⠀
A new consortium that includes top Illinois scientists will use some of the world's most advanced supercomputers alongside A.I. to help curb current and future pandemics.
We are continuing to support our community.
We are partnering with community leaders to help connect people with resources during the pandemic. Please visit the Champaign County Coronavirus Response website to learn more.
In preparation for the anticipated increase in COVID-19, the university has entered into an agreement with Carle Health System. The agreement provides Carle with the ability to stand up an alternate care facility at the Activities and Recreation Center (ARC) and house medical personnel in Bousfield Hall.
Blood donation is still permitted under Stay at Home directives. If you are able, please consider donating.
We also hope you will respond to the 2020 US Census. Illinois students should be counted at the address where they would have been living prior to COVID-19 changes.
Please feel free to direct questions to covid-19@illinois.edu and engage with us on Facebook, Twitter, Instagram and LinkedIn.
Robert J. Jones
Chancellor