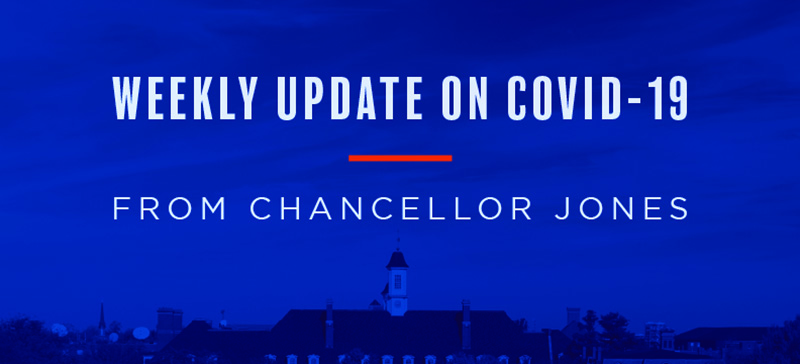 Weekly Update from Chancellor Jones (April 20 – April 24)
During this challenging time, the Illinois family continues to step up in extraordinary ways. Thank you for all you have done to ensure the continuity of our university missions.
We are developing technologies to improve patient care.
A team from The Grainger College of Engineering has released the designs for RapidAlarm, an alarm and sensor package for emergency pressure-cycled ventilators.
We are encouraging our university community members to help the Champaign-Urbana Public Health District make and collect cloth face masks for essential businesses.
The masks will be collected for cleaning and distributed to essential businesses in our community.
We are encouraging you to be aware of COVID-19 text messaging scams.
The Champaign-Urbana Public Health District does not use text messaging to contact people as part of contact tracing.
We are providing resources to people in need.
University staff helped create a map of publicly available drive-up Wi-Fi hotspots throughout the state of Illinois.
We are working with Carle Health and the state of Illinois to increase COVID-19 testing.
Campuswide efforts are mobilizing to provide COVID-19 testing supplies for thousands of tests across the state.
We are assessing the financial impacts of COVID-19.
We sent a massmail discussing the COVID-19 financial impacts on the University of Illinois at Urbana-Champaign.
I am grateful for your continued patience as we navigate this pandemic. To view past updates, please visit the Weekly Update archive. Please feel free to direct questions to covid-19@illinois.edu.
Robert J. Jones
Chancellor