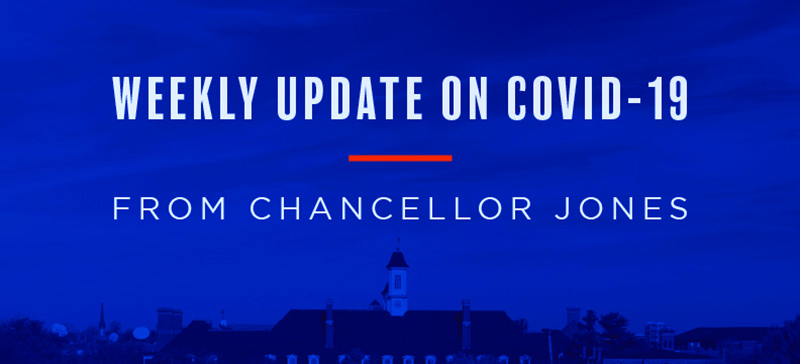 Weekly Update from Chancellor Jones (April 13 – April 17)
As the semester progresses, I am thankful for your innovation as we navigate the COVID-19 pandemic. The Illinois family continues to step up in exemplary ways that allow us to move forward on delivering our missions.
We are allocating funds for students facing financial challenges related to the COVID-19 pandemic.
The Illinois Cares: COVID-19 Support Program will help financially impacted undergraduate and graduate students continue their studies.
We are taking efforts to protect healthcare workers.
An Illinois team launched an effort to provide gowns, masks, face shields and N95 respirators to protect healthcare workers on the front-line.
We are supporting families in need.
The Child Development Laboratory is finding ways to creatively connect with children and families at home using Zoom, while also offering childcare to essential and critical workers.
We are providing COVID-19 resources, education and outreach to Illinois residents.
Illinois Extension is assisting families and communities from every county in the state of Illinois.
Thank you for your continued patience as we navigate this pandemic. To view past updates, please visit the Weekly Update archive. Please feel free to direct questions to covid-19@illinois.edu.
Robert J. Jones
Chancellor