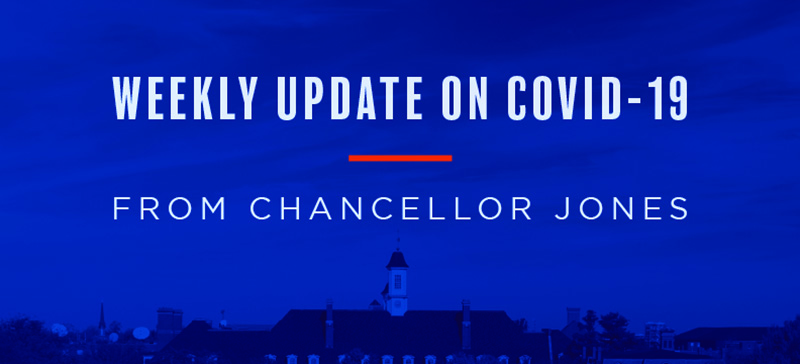 Weekly update from Chancellor Jones (April 6 – April 10)
As the semester progresses, we will continue to keep you informed of new information as we learn of it. And we will continue to do all we can to keep our students, faculty, staff and community members as safe as possible.
We have made the decision to cancel all university summer camps through at least July 10 and all events through May 18.
We will follow state guidance on events after the end of the state-at-home directive.
We are using Illinois expertise to help fight COVID-19.
Illinois veterinary experts helped identify SARS-CoV-2, the virus that causes COVID-19 in humans, as the cause of a respiratory illness in a Bronx Zoo tiger.
We continue to offer health resources to our students.
Students can access McKinley Health Center services whether they are back home or in the local community.
We are sharing important information about online proctoring.
There are resources available for instructors and students who are planning to use Proctorio™ for online assessments.
We are making immediate downward adjustments to University Housing, University Dining, student service and campus transportation fees.
These adjustments will be applied to student accounts.
Thank you for your continued patience and kindness as we navigate this pandemic. Please feel free to direct questions to covid-19@illinois.edu.
Robert J. Jones
Chancellor