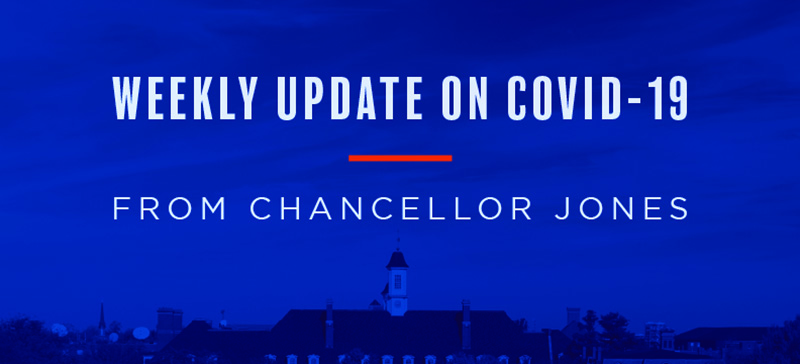 Weekly Update from Chancellor Jones (8/31 – 9/4)
We are increasing enforcement of COVID-19 safety guidelines.
For the next two weeks, the university expects all undergraduate students to significantly restrict in-person activities.
We are providing more detailed information about the university's on-campus testing program, including Labor Day hours.
On-campus testing is required for all students, faculty and staff participating in on-campus activities during the Fall 2020 semester.
View the testing locations and hours. Please note that the following testing sites will be open from 9 a.m. to 1 p.m. on Labor Day:
State Farm Center (indoor)
NCSA (outdoor)
Illini Union (indoor)
Washington Park (outdoor)
Vet Med (outdoor)
Alice Campbell Alumni Center (outdoor)
SDRP (indoor)
CRCE (indoor)
We are offering a free non-credit course about COVID-19, led by Illinois experts
A new course, COV-Course: A Multidisciplinary Approach to Understanding the Pandemic, will offer a comprehensive, interdisciplinary understanding of the pandemic. The free course is open to the public.
We are encouraging our university community to get their flu shot.
Flu shots will be available through McKinley Health Center beginning September 14th.
We are encouraging students, faculty and staff to download the Safer in Illinois app.
The Safer Illinois app is an innovative tool to help our entire community maximize safety.
Thank you for your continued patience as we navigate COVID-19. Please feel free to direct questions to covid-19@illinois.edu.
Robert J. Jones
Chancellor