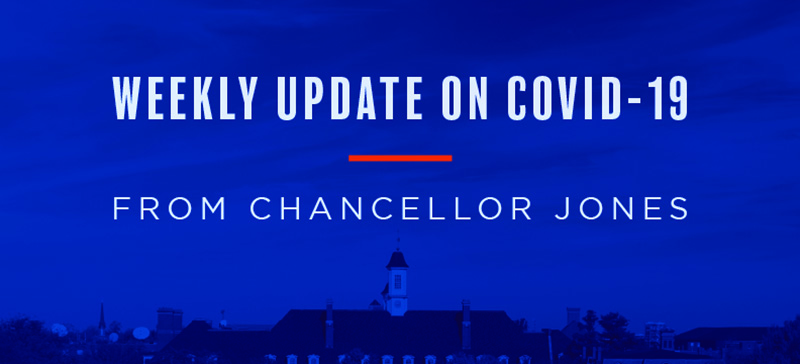 Weekly Update from Chancellor Jones (10/19 – 10/23)
We are providing important Fall Break and Spring 2021 guidance.
Stay up-to-date on the new COVID-19 requirements and precautions we are taking in the next several months, including guidance for before and after Fall Break and changes to the Spring 2021 schedule.
We have conducted more than half a million COVID-19 tests on campus.
Thanks to efforts from students, faculty and staff, the university's seven-day case positivity rate at 0.12%. View the testing dashboard for additional on-campus testing data.
We are reminding you to be aware of contact tracing scams.
In the event of exposure or testing positive for COVID-19, students, faculty and staff will typically be contacted within 24-48 hours by CUPHD using a phone number that begins with 217-531-XXXX. Follow-up contact tracing calls will come from 312-777-1999.
We are encouraging our university community to get their flu shot before the end of the month.
McKinley Health Center is providing free flu shots to all students who have paid the Health Service Fee and benefit eligible faculty, staff and retirees. If you aren't sure how fast and easy it is, watch this short video reminder.
We are sharing resources to help others maximize safety.
Students, faculty and staff can continue to confidentially report safety concerns and non-compliance at go.illinois.edu/COVID19-report.
Thank you for your continued patience as we navigate COVID-19. Please feel free to direct questions to covid-19@illinois.edu.
Robert J. Jones
Chancellor