On-Campus Students
Spring 2021 will be an on-campus semester with as much in-person instruction as restrictions of space, health and safety allow.
We will maximize in-person classes as much as possible, especially for courses with labs and performance-based curriculum.
Academic concerns
Undergraduates with questions or concerns should consult with their academic advisors or college office, and graduate students should consult with their advisors or the Graduate College.
Please also consult the Academics guide for more information.
On-Campus COVID-19 testing
All students living on-campus or residing in Champaign, Urbana or Savoy must test, even if they are taking a fully online schedule. Read more about COVID-19 policy enforcement.
If you are an undergraduate or graduate student coming to campus for the first time this Spring 2021 semester, it is required that you receive two negative on-campus test results, no sooner than three days apart. A student's Safer Illinois app and Boarding Pass will show "Building Access Denied" until they receive their second negative result.
Contact information
Students can update their contact information through Self Service.
Basic personal actions
There a number of basic personal actions that students should take every day to help protect themselves and the university community. This includes checking your symptoms every day, wearing face coverings and washing your hands.
Find out more on the Basic Personal Actions page and take the Illinois Community Pledge if you want to show you're doing your part to help maintain the well-being of yourself and others.
Face coverings and social distancing requirements
To reduce the transmission of COVID-19 infection, all students, employees and visitors must wear a face covering in any university building, facility and classroom unless they are physically isolated in a private space or room.
Face coverings also must be worn in all public places and settings on campus where social distancing of six feet cannot be maintained. This includes outdoor spaces on campus and situations such as traveling to and from classes or events.
There are more details about face coverings and examples of acceptable face coverings on the Face Coverings Page.
Feeling ill and absences
Students need to take responsibility for checking their symptoms every day. Students who feel ill must not come to class.
In addition, students who test positive for COVID-19 or have had an exposure that requires testing and/or quarantine must not attend class. The University will provide information to the instructor, in a manner that complies with privacy laws, about students in these latter categories. These students are judged to have excused absences for the class period and should contact the instructor via email about making up the work.
See the Academics Guide for more information about excused absences and COVID-related information.
Learn more about returning to campus after quarantine and isolation.
Building access
Students entering many buildings to attend in-person classes may be checked at the building entrance to make sure that they are wearing a required face covering and to verify their Building Access status.
In the classroom
Here are some of the things all students need to remember once they are inside their classroom:
Arrive early and plan for things to take a little more time
The steps to help minimize the spread of COVID-19 are going to add more time to everyone's classroom routines. Make sure that you arrive early, especially so you can verify your building access status. We ask that all students, especially during the early part of the semester, be patient and plan ahead as much as possible.
Face coverings and social distancing
Students need to wear their face coverings and maintain social distancing for the entirety of the class to protect themselves and their classmates.
If there is another class in the room prior to your class, practice social distancing in the hallways while waiting to enter the room.
Clean upon entering
Classrooms will have hand sanitizer and wipes. As you enter the class, use the hand sanitizer, grab a wipe and wipe your own seat and writing surface.
Seating
All classrooms will have reduced capacities to allow for social distancing between students and instructors. Classroom, lab, and studio layouts have been reviewed by Facilities & Services Design Services team in conjunction with facility managers.
Classrooms with fixed seating will be denoted to indicate usable seats or furniture location. Look for markings such as a Block I or a Sit Here sign to indicate the usable seats.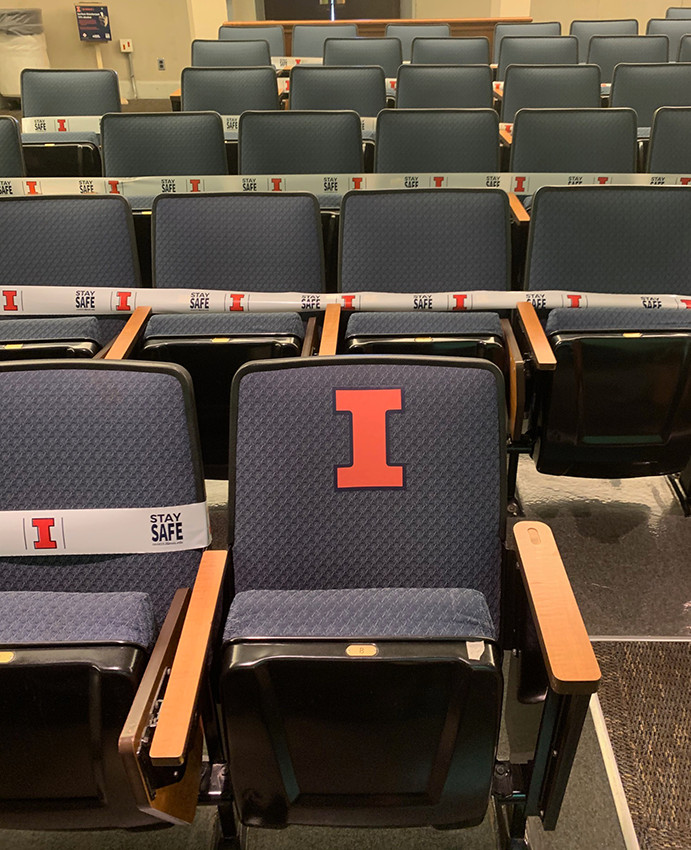 It is important that movable furniture is not re-positioned within the room and that additional seats are not borrowed from other rooms. If a desk is movable, please do not move it.
Food and drink
The university is advising all instructors to forbid food and drink in the class to minimize droplet spread and to reduce the need to remove face coverings. Keeping food and drink out of the classrooms also makes it easier for staff to clean the rooms each day. Doing something small like not bringing food or drink to class can help in a big way.
Clean up after yourself
Students will be asked to use hand sanitizer and disinfect their immediate seating area at the end of the class session. As each classroom is different, instructors will help students understand cleaning expectations for their immediate seating area.
Practice social distancing as you leave
Make sure you maintain social distance as you are leaving your class. Some instructors may dismiss row by row. As you exit your class and enter the hallways, please look out for others and maintain social distance.
Study Spaces
The Office of the Registrar maintains a list of classrooms that are available for use between classes and events for students who may need a location to participate in an online class or to study.
Social distancing and face covering requirements apply. Please wipe your own seat with supplies provided. Furniture may not be moved within the room or to another location. Room schedules can be found outside the classroom. Please be courteous to other users and to incoming classes or events and be prepared to exit at building close.
Visit the Registrar's Indoor Space Specifications page to find a list of some of the available study spaces on campus.
---
Frequently Asked Questions
Will facilities other than normal classrooms be used for learning environments?

One of the biggest challenges for instruction with social distancing is classroom space. As a consequence, we are looking at "nonstandard" spaces for class sections. An example of a nonstandard classroom space would be the Illini Rooms in the Illini Union. If we do use any nonstandard classroom spaces, it will be done only if the space is conducive to instruction and is accessible to students, faculty and staff with disabilities. We will not use spaces that are far from campus or inaccessible.
Where/how will large lecture/large classes be held?

Most large classes are likely to be online or incorporate online components, in accordance with the Restore Illinois plan guidelines on gatherings. Under Phase IV, gatherings with 50 people or fewer will be permitted.
With social distancing requirements limiting maximum section sizes, how will you offer enough course options for everyone?

Classes that meet in-person will be in spaces that allow adequate social distancing between students and faculty. As an added precaution, for the health and safety of all, face coverings will be required in all campus spaces, including classrooms. Scheduling classes during traditionally under-utilized days and times will also offer more in-person capacity.
---
Additional Resources
---
On-Campus Students updates